With the holidays quickly approaching, there's one gift most people forget to give themselves: a break.
In fact, 1 in 4 working Americans have nine or more days of paid time off remaining this year, according to a recent work-life balance report by vacation and travel website Priceline.
That's more than most workers can, or will, use by Jan. 1, Priceline found, which means many of those hard-earned days off will be left behind. Priceline polled more than 1,000 adults in October.
"Too often, people begin the year expecting to take full advantage of the vacation time they're given, but find themselves scrambling to use those days as December approaches," Priceline CEO Brett Keller said in a statement.
"Our advice is to treat your paid time off like any other work project," he said. "Plan ahead, keep track of the days available, and don't let the year end with that time unused."
While most employees at least want to make the most of those hard-earned days off, American workers use only about half, or 54 percent, of their eligible vacation time on average, according to a separate study by jobs and recruitment website Glassdoor.
Only 23 percent of employees take all of the time they are entitled to — and nearly 10 percent take no paid time off at all, Glassdoor said.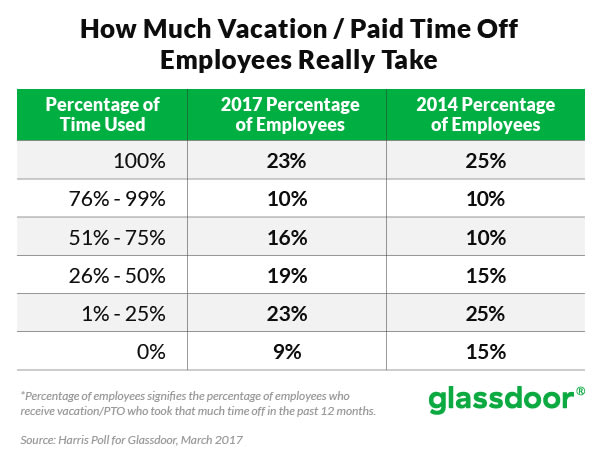 As a result, they end up burning valuable time.
By forfeiting over 200 million vacation days that cannot be rolled over, American workers gave up about $62.2 billion in lost benefits last year alone, according to Project: Time Off, which is sponsored by the U.S. Travel Association.
That means employees effectively donated $561 in work time, on average, to their employer in 2017, the project said.
Project: Time Off also found that workers who do carve out some personal time and use the majority of their vacation days for travel are significantly happier than those who travel less or not at all.
As for 2018, it's not too late, added Liz Dente, Priceline's chief people officer. Vacations don't have to be overly planned out or expensive, she said.
"It doesn't have to be a trip to Italy, spend a day sleeping in and shopping — take pressure off."
More from Personal Finance:
The best time to book holiday travel is right now
The 10 most expensive U.S. tourist destinations
The annual expense almost everyone forgets to budget for