Introducing Trip Intelligence, a suite of over 40 new booking tools and upgrades informed by Priceline's latest proprietary traveler research and booking data
With new features to support easier, more robust trip planning, including Priceline's Penny, a proprietary generative AI chatbot solution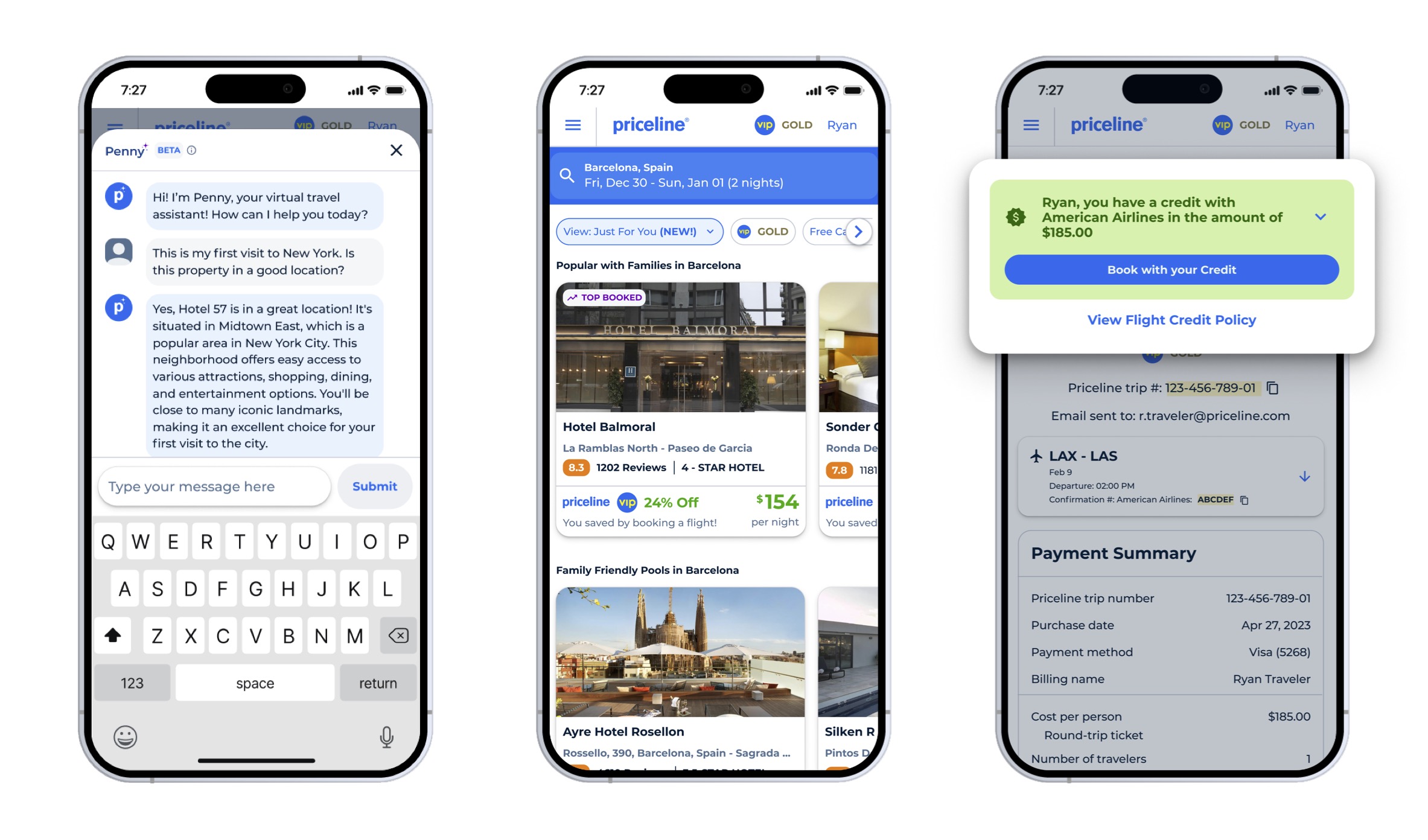 When it comes to travel planning, we know that being exhaustive can be exhausting. Priceline has been on your side for over 25 years delivering the most advanced trip planning and booking platform combined with the best deals in travel.
Our new Trip Intelligence Summer Release introduces a feature-rich platform upgrade with over 40 new capabilities and enhanced design to empower travelers with more information at their fingertips than ever before – from neighborhood data, to weather updates and trunk luggage capacity – so customers can worry less about booking and enjoy more of life's moments at a moment's notice.
Introducing the 2023 Trip Intelligence Release
With 80% of Americans planning to travel in 2023*, summer travel demand is expected to exceed pre-pandemic levels. Based on our proprietary research, 61% of parents nationally plan to travel this summer* and 63% of Priceline customers plan to travel abroad**, a significant year over year increase, which coincides with a rise in multi-generational and family travel. 
Travelers increasingly expect even more flexibility, trust, and confidence in their trip planning, booking and travel experience – and that need is even more acute amongst people traveling internationally or booking trips for multiple people or family members. 
In light of these observations, we added new technology and features designed to help our travelers get even more information, context and choices earlier in their booking process, to make travel planning, decision making and booking more informed and even easier than ever before. 
"When it comes to booking travel, the choices are endless," said Brett Keller, CEO, Priceline. "With over two decades of industry-leading technology innovation and price negotiation, Priceline remains the trusted travel partner for millions of travelers around the world when booking their most complicated trips. Our collection of Trip Intelligence features alleviates the complexities trip planners face, so they can focus on the moments that matter."
Individualized trip planning and booking with Penny, Priceline's NEW AI-powered chatbot
Penny, Priceline's proprietary generative AI solution, is not your everyday chatbot – Penny is a form and function-fit trusted travel agent running across Priceline's entire hotel network, neighborhood scout, help desk contact, and 24/7 concierge all-in-one. Penny can answer the most specific questions, like "What are the best four-star hotel options in midtown Manhattan within walking distance to Central Park?" and "Are there any vegan restaurants near my hotel?" Additionally, with our state-of-the-art security features and tokenization, customers can safely and securely book directly within the chatbot. The only thing Penny can't do is deliver your bags to your room (so don't forget to tip your bellhop!). 
On-the-ground neighborhood intel 
Get a street-level feel for the neighborhood energy and local vibe with a real-life perspective of your hotel and surrounding area before you book. We've also integrated the ability to search and choose accommodations based on distance to nearby attractions and landmarks, neighborhood ratings around your preferences, improved map views, and hyperlocal weather updates personalized to your specific neighborhood.  
Family Friendly Reviews & Filters
Designed to make the most complex family trip planning a breeze, new filters help family travelers find the best properties through our robust set of property reviews from other travelers like you (Families with Young Children, Families with Teens, and more). Additionally, easily identify the best flights, accommodations and rental cars to meet your family's specific needs – from flexible policies, seating and luggage capacity to amenities, safety features.
Over 40 new capabilities with the intel you need for easier, faster, smarter booking
With market-level demand back to its previous highs, Priceline customers are continuing to make travel a high priority in their lives, making plans earlier, booking longer stays, and continuing to choose high category rooms. These travel trends—coupled with Priceline's internal data and insights and constant testing approach leveraging millions of signals and variants—led us to this extensive, rich feature set that will empower millions of summer travelers to make faster, easier and more informed booking decisions. 
At Priceline, our category-defining approach is focused on constant innovation. We're continuously using traveler search and behavior data to build better ways to get you to your happy place at your happy price, as seamlessly and sustainably as possible. This is not just the promise we make, it's the principle that has guided us since day one, and it's why millions of people around the world have trusted us to book the trips and experiences they anticipate most. In fact, Priceline has saved millions of travelers more than $15 billion with some of the best deals available anywhere. 
"When it comes to the technology we develop at Priceline, our philosophy is always first and foremost focused on enhancing the booking experience for our customers," said Kevin Heery, Chief Product Officer, Priceline. "Trip Intelligence represents a robust set of new capabilities, including a first-to-market generative-AI based booking solution, expressly designed to further power how our technology can enhance our customers' experience. 
Some of the 40+ new capabilities we're launching today include:
Just for You Recommendations – Browse a list of curated hotel recommendations tailored to your interests, helping you book the right hotel at the right price with speed and confidence. 
Flight Rebook – Unexpected delays? Flight changes? No problem. Now rebook with your airline credit right on Priceline, no need to wait on hold for an airline representative in order to get your journey back on track.
Sustainable Choices – Our Travel Sustainable program features one of the largest EV and hybrid vehicle fleets in North America, and a new 'Sustainable' badge highlights over 500,000 properties taking steps to operate more responsibly towards the environment and within local communities. Use our new filters and badging to help make more informed choices.
Dynamic Pricebreakers Deals – New Pricebreakers are generated as you add new filters to your hotel search to provide the perfect personalized deals for you.
Enhanced Payment Security – ​State-of-the-art tokenization on all credit card payments to deliver superior security and fraud protection 
All of these features and more will be available to all Priceline customers starting Wednesday, June 28th. To experience the all-new Trip Intelligence and book a trip to your happy place, visit Priceline.com/2023SummerRelease. 
* Based on a survey conducted online with The Harris Poll on behalf of Priceline from January 19 – 23, 2023 amongst a nationally representative sample of  2,026 U.S. adults ages 18 and older
** Based on an internal survey conducted January 11 – 27, 2023 amongst a representative sample of 3,607 U.S. Priceline customers who have booked with Priceline in the past 6 months