NORWALK, Conn., September 16, 2014 … Tourists traveling in search of an authentic, cultural experience, who have previously fallen victim to tourist traps, can now get the full scoop on the best ways to travel like a local. Priceline.com, a leader in online and mobile travel and part of The Priceline Group (NASDAQ: PCLN), today released its 2014 Tourist Report Card, uncovering the latest in the ongoing "saga" between tourists and locals. According to the study, nearly all tourists think they blend in well, while 94 percent of locals admit they can at least sometimes spot a tourist just by looking at them. However, while locals know tourists can be guilty of clichés and stereotypes, 84 percent still say they find tourists more friendly than annoying.
"At priceline.com, we're committed to understanding travel trends and traveler needs and preferences," said Chris Soder, priceline.com CEO. "To get the full picture of what our customers want, we strive to ground our services and product innovation in research. That's one of the reasons we conducted the '2014 Tourist Report Card' study – to monitor the shifting travel attitudes, perceptions and behaviors of consumers."
Priceline.com's new study exposes tourists' secrets to blending in, locals' biggest tourist pet peeves, and the most and least welcoming big-city destinations in the U.S., among other key findings, including:
Undercover Tourists: Tourists (15%) identified Anthony Bourdain as a top travel icon, and it is clear they have taken note on his skills at immersing himself in the culture and navigating unfamiliar territory. The top ways tourists try to blend in are ordering local dishes and drinks, and traveling by public transportation, but admitted that they are also guilty of certain clichés, such as asking locals for directions (63%) and eating at chain franchises (54%).
An Old-School Approach to Navigation: In this age of modern technology, many travelers still prefer old-school methods to get around. Nearly half of tourists (42%) still use a print-out map and one in four (25%) tourists use a pocket foldout map for driving directions. However, both tourists and locals still turn to their mobile devices frequently to get directions and discover local grub when traveling and exploring their city. Good thing two-thirds (66%) of tourists have Google Maps at their fingertips, because one in four (24%) have been given incorrect directions by a local.
Love is in the [Vacation] Air: Tourists are not opposed to sparking up romance with locals while vacationing, as more than one in three (38%) tourists have become smitten over a foreigner with an accent. Over one in three (37%) single tourists say they would love to have a "fling" with a local, and one in five (19%) would put those thoughts into action – actually trying to find a one-night hook-up while on vacation.
Tourist Gear Giveaways: While more than half (58%) of tourists say they avoid tourist-y gear in order to blend in, locals have spotted tourists wearing clothes with the city's name on it, fanny packs, and socks with sandals – the latter of which takes the cake as the ugliest traveler fashion accessory. And, the number one tourist giveaway according to locals? Carrying a camera around the neck and taking pictures of everything.
Room for Improvement: If locals could give tourists advice, it would be to pay more attention. Across the board from San Francisco to Chicago and New York, locals agreed that their biggest pet peeve is when tourists do not pay attention to their surroundings. Partying college kids may want to tone things down a notch, too. One in 5 locals (22%) say the most annoying type of tourist is the intoxicated youth. Despite this, the majority (56%) of locals remain appreciative of tourist's stimulating their local economies. In fact, locals gave tourists good 'grades' on a variety of aspects, as captured in this infographic.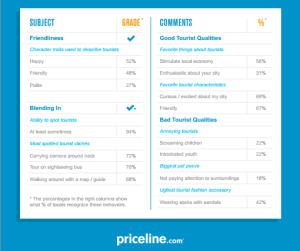 The full report can be found here. For more information on priceline.com, visit www.priceline.com/media/ or join in the conversation to share your #touristtales on Facebook and Twitter.
About the Survey
The Tourist Report Card was commissioned by priceline.com and conducted by Edelman Berland (www.edelmanberland.com) among nationally representative U.S. adults, ages 18+, between July 21 and July 30, 2014. Two quantitative surveys were conducted, the first among 1,002 U.S. tourists who have traveled out of state for leisure purposes in the last year or planning to travel out of state in the next year and the second among 1,054 U.S. locals having lived in the top U.S. tourist destinations for a minimum of five years.
About priceline.com
Priceline.com, part of The Priceline Group [NASDAQ: PCLN], gives leisure travelers multiple ways to save on their airline tickets, hotel rooms, rental cars, vacation packages and cruises. In addition to getting compelling published prices, travelers can take advantage of priceline.com's famous Name Your Own Price® service, which can deliver the lowest prices available, or the recently added Express Deals®, where travelers can take advantage of hotel discounts without bidding.